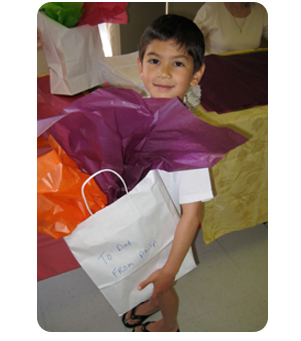 Children Giving Gifts is structured on the principle that it is essential for a child in poverty to experience the tremendous joy and fulfillment that comes from giving to others. Our goal is to plant the seed for future acts of kindness during their very important developmental years.

We provide disadvantaged children ages 5-12 years old the opportunity to 'shop' and give a gift…(free of charge)
Our desire is to share the love of Jesus Christ by putting His love into action through our caring ways and teaching children the extreme joy and blessing that comes from giving to others.
Children Giving Gifts is recognized by the IRS as a 501(c)(3) Christian non-profit organization. All donations are tax-deductible, as allowed by law. To donate using PayPal with a major credit card, please click on the following icon: